CLASSES, BOOKS AND PROGRAMS
Want your business or non-profit to grow? 
Get Media Exposure, Get Noticed and Be Influential

A steady, incoming stream of new leads and connections is the very lifeblood of your business, so of course you're always on the lookout for the most effective and inexpensive ways of creating and nurturing that stream.
Publicity has proven itself the most cost-effective, lucrative and powerful tool for client attraction and retention. Being featured in the media creates a spike in your credibility and drives profits to your business and prospects to your door. That kind of exposure can take your business to the next level seemingly overnight!
Two (2) 30-Minute Private Consulting Sessions with Radical Influence Expert Jill Lublin.  Zero in on your specific challenge and watch Jill perform her magic to get you moving forward.
JILL'S BESTSELLING BOOKS
The Profit of Kindness:
How to Influence Others, Establish Trust, and Build Lasting Business Relationships
by Jill Lublin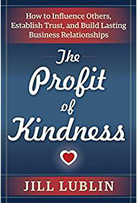 List Price: $16.99
Amazon.com Price: $15.38
You Save: $1.61 (10%)
ORDER THIS BOOK
Get Noticed… Get Referrals:
Build Your Client Base and Your Business by Making a Name For Yourself (Paperback)
by Jill Lublin

List Price: $16.95
Amazon.com Price: $11.53
You Save: $2.59 (32%)
ORDER THIS BOOK
Guerrilla Publicity: Hundreds of sure-fire tactics to get maximum sales for minimum dollars
by Jill Lublin, Jay Conrad Levinson and Rick Frishman

List Price: $12.95
Amazon.com Price: $10.36
You Save: $2.59 (20%)
ORDER THIS BOOK
Networking Magic
by Jill Lublin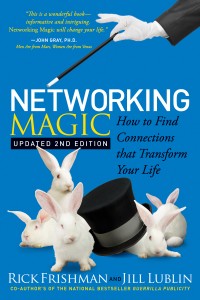 List Price: $12.95
Amazon.com Price: $10.36
You Save: $2.59 (20%)
ORDER THIS BOOK